The Costa Blanca's tourist capital and the Mediterranean's equivalent of New York! Like it or dislike it, Benidorm is a must see for everyone, even if it is just so that you can say 'I've been there'! It is one of the easiest places in the world to relax and simply do nothing! Over recent years Benidorm has been transformed into a major tourist destination.
Benidorm has two glorious beaches, Poniente and Levante, both of which are backed by beautiful promenades as well as a small marina. The bustling, historic old quarter is well worth a visit and in particular the three plazas of Santa Ana, Castelar and Castell from which there are breathtaking views of both beaches and the impressive skyline. There is an incredible selection of entertainment and excitement for people, including cabaret shows, nightclubs and every type of bar you could wish for from sophisticated to Irish. A wide range of restaurants of all nationalities from Spanish tapas to a la Carte and the inevitable English breakfast! Benidorm has the reputation of being the most important party capital on the Costa Blanca and Benidorm is the most important tourist resort on the Costa Blanca.
If you are looking for a quiet get away from it all, then Benidorm is not the holiday destination for you. If you want to see action until breakfast time then Benidorm is the town for you. Clubbing in Benidorm is the in-thing. The first thing that springs to mind is to compare the club scene with Ibiza, but Benidorm is so much cheaper and less pretentious. Each summer the super clubs in Benidorm throw intense parties featuring some of the world's top DJs.
Most of the main super nightclubs in Benidorm are situated along the same street which is the Avenida Communitat Valencia. Just slightly out of the centre of Benidorm you are best getting a taxi which will only take 5 minutes from most hotels and apartments, costing you less than ten euro's. Tickets and entry price for most clubs will be on average 30 Euros but often includes your first drink free.
Competition between the super nightclubs in Benidorm is fierce so look to get vouchers and freebies from the many promoters' you see on the streets of Benidorm who are trying to get you to visit the club they are promoting for. The most popular clubs and discos in Benidorm are the KM Dance Club where gorgeous girls and handsome men poledance, Penelopes, El Divino and Hippodrome nightclub.
Benidorm's biggest problem is that it grew up in the Seventies.Very soon, from the small fishing village it turned to be found itself dressed in the architectural equivalent - skyscrapers and high-rises - and has been stuck with them ever since. The buildings are tall. The tallest tower in Spain - a hotel with 50 storeys and 1,000 rooms - is due to open here next year and there is no other skyline quite like it in Europe.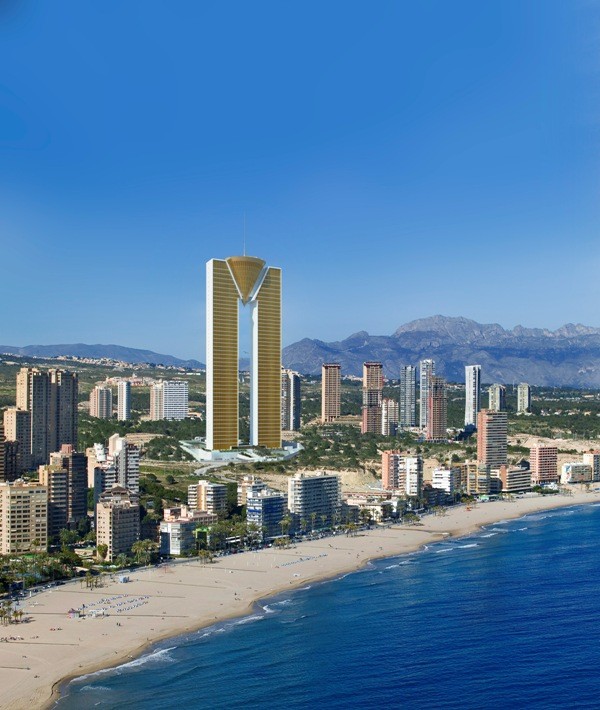 Benidorm is the most popular with tourists from the UK, Ireland, Germany, Belgium and the Netherlands. Benidorm's initial growth in popularity can be attributed to the package holiday explosion, and continues year round, due to the night-life based around the central concentration of bars and clubs. It can also be said that from 2010 there has been a significant rise in Russian speaking tourists who moved to Spain for the search of good life and warm climate. This community is growing bigger every year and so does the Benidorm popularity among the tourists from Russian speaking countries.
Benidorm has a typical climate for Costa Blanca with very mild winters and hot summers. The city receives slightly more than 300mm in precipitation per year, which prevents it from being classified as Mediterranean. It enjoys more than 3,000 hours of sunshine a year and the average annual temperature is 18.9 °C. The maximum temperatures during winter range from 17 to 21 °C, while the lows range from 7 to 11 °C. During the summers, the temperature oscillation is small, and the maximum temperatures range from 28 to 32 °C while the lows range from 19 to 23 °C.