So lets start from pretty common ones, that you can find just around the corner in a local souvenir shop!
1. Spanish Fan
A hot summer's day in Spain is not complete without middle-aged Spanish women fanning themselves with an abanico. They might seem a bit tacky but Spanish women swear by them - they're actually quite effective and are ideal for buildings that don't have air conditioning.
2. Flamenco CD
Flamenco is still alive and well and is popular throughout Andalusia, Madrid, and Barcelona. Go into a specialist flamenco store and ask the assistant for help in choosing a CD.
3. Jamon Iberico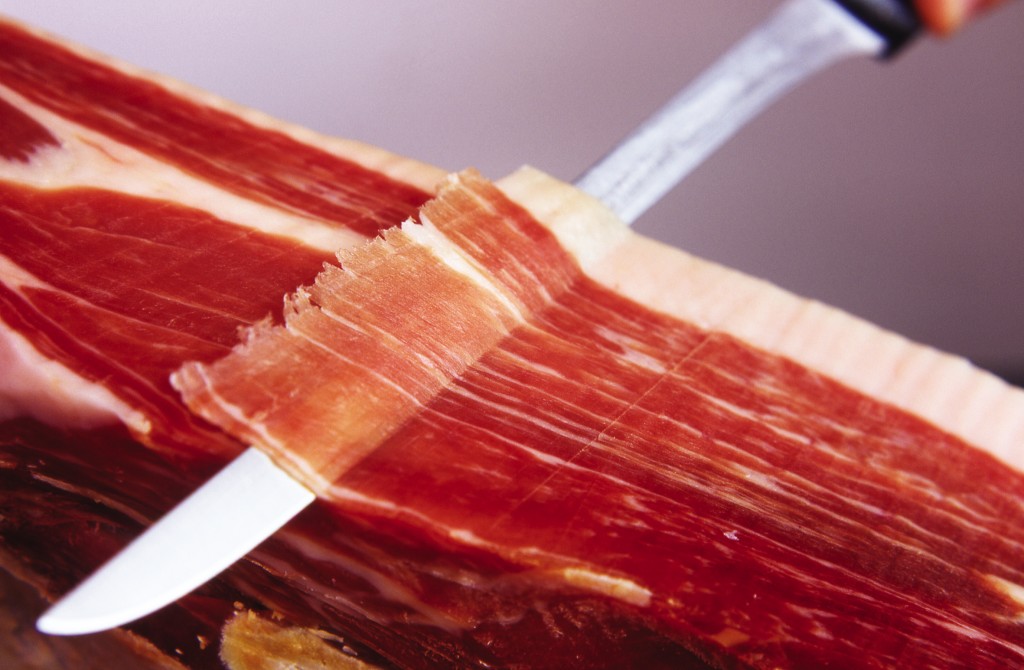 The Spanish talk about their ham like the French speak of their wine. Cured for at least a year, often two, jamón is a staple part of every Spaniard's diet. Sadly there are a bit of the "emperor's new clothes" about it and much of it is a little unpalatable for those not brought up on it. Buy your jamón from Huelva, Salamanca or the Alpujarras, near Granada. The chorizo (spicy sausage) is good too.
4. Olive Oil
Olive oil might not be the first thing that pops up in your head when thinking of Spain souvenirs. The most people associate olive oil with both Greece and Italy, but not so much with Spain, which surprises me. Spain is actually one of the biggest producers of olive oil in the world, and it's delicious as well.
Andalucia is the biggest producer in the country and is the perfect place to buy a bottle or two. But don't worry if you're not going to Andalucia, you can buy Spanish olive oil all over the country.
5. Saffron
Did you know that Spain is one of the major producers of saffron in the world? Yes, it's true and here it's delicious and pretty cheap as well. This spice is good to have in your food, especially for the traditional dish Paella – which is something you've to have to try when you're in Spain. Saffron is definitely one of the best souvenirs from Spain if you like to cook!
6. Bota (Water Bottle)
Pretend you're a Spanish peasant taking the long journey from your home in the countryside to the market in the next town with a 'bota' – a leather wine bottle perfect for drinking on the go. The black version in the picture is the authentic one and costs about 30€, the pale one on the right is the touristy one but it is a lot cheaper.
They all have tiny drinking holes; the idea is to squirt the wine into your mouth without the bottle touching your lips. There is an art to it that is quickly picked up - learning it is a lot of fun!
7. Castanuelas
One of the coolest things to buy among the Spain souvenirs is the Castañuelas. Castanets (in English) are a unique percussion instrument that's made out of chestnuts and used by the Flamenco dancers in the country. It's a really cool instrument and is one of the best souvenirs in Spain.
and the ultimate Spanish unique souvenir:
Vino De Jerez
Wine is made throughout Spain, but none is as distinctive as vino de Jerez, known as sherry in English.
If you've never tasted sherry, expect something a little different from your usual wine. The particular ambient weather of Jerez and the way in which sherries are fortified give them an unusual taste that takes a little getting used to. You can buy bottles of sherry in Jerez for around five euros, but an even better souvenir would be to bring your own bottle to a tabanco (sherry bar) in Jerez and ask them to fill you up straight from the barrel.