Maybe you have been travelling around Spain by car and noticed big black bulls standing on top of the hills and you have left wondering, why is it there and what is the story behind it? If you didn't see it yet, all it takes is a drive across Spain to see the legendary brandy advertisement that has become a symbol of Spanish culture both here at home and abroad.
The Osborne Bull is the black silhouette of bull that stands on hilltops and along the roadside in many parts of Spain. It began as nothing more than an advertisement in 1956 when the Osborne Group set out to promote 'Veteran' brandy. The Osborne sherry company erected large images of bulls starting in 1956 to advertise their Brandy de Jerez. An Andalucian artist by the name of Manolo Prieto suggested the bull and thus set a legend in motion. At first the bull wasn't black and was covered with the images that were black (with the brand "Veterano" in red on it) advertising boards located near major roads throughout Spain. The original image was smaller and slightly different in design.
The Osborne Bulls were constructed in the workshops of brothers José and Féliz Tejada Prieto. However, they left Prieto's hands and went on to take on a life all its own. It started out as a wooden figure, quickly transformed into metal in order to withstand weather conditions. Later it had to meet even tougher regulations; such as not being within 150m of a road, which, by 1962, brought it to its full height and added its current support structure.
The big controversy began when the national Traffic Department, intent on reducing accidents by wiping away any possibly roadside distraction, ordered that the bull be taken down in 1994. There was public outcry across many parts of Spain, especially Andalucia, where the regional government promptly declared it part of Andalucian Heritage. In the years that followed, the Osborne Bull would be recognized by Spanish courts as a genuine cultural symbol and it would remain along roadsides in many areas, but as pure black silhouettes.
There are only two examples with the word 'Osborne' remaining, one at Jerez de la Frontera airport, and the other near Puerto de Sant Maria. The artistic shape is often said to be a public domain image, having been reproduced on countless T-shirts, mugs and stickers. All but one court ruling has confirmed it as a trade mark owned by Osborne.
There are 21 bulls in Andalucia erected between 1957 and 1979. They are not all the same. The two in the municipality of Alcala de la Gazules on the aptly named 'Ruta del Toro' are the 6.5m 'Toro Grande' type weighing two tones. The other 19 in Andalucia are of the 13.13m 'Toro Gigante' type weighing four tones. Each of these has mass concrete foundations 2m by 1m in plan and a depth of at least 2m, the sheeting is 3mm galvanized steel 2m by 1m.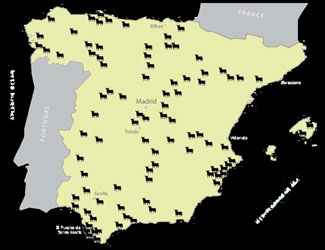 Even though the Osborne Bull really is a commercial figure, it's cultural status as a symbol of all things Spanish is so widely accepted as to create a backlash in some parts of Spain with Catalan's ripping down any attempt to raise an Osborne Bull and some Basque's raising a Basque sheep instead. In spite of all the controversy, and the occasional repainting's in support of one protest or another, the bull story will most certainly go on, as it is one of the mist major symbols of Spain!